Nice to meet you!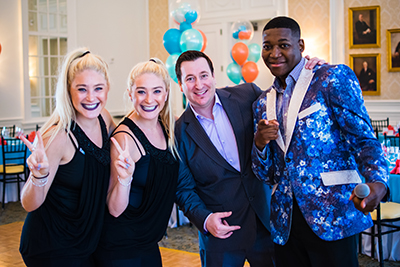 It all began for us back in in 1998 and now, over 15 years and more than 10,000 events later Everything Entertainment is one of the most requested and reputable DJ companies in Washington, DC, Maryland, Northern Virginia, New York, and Florida. Our topmost priority has always been our customer's satisfaction which is validated by the number of repeat customers that re-engage us to perform at their venues or events on a regular basis.
As a premier full-service entertainment company located in the Nation's Capital Everything Entertainment utilizes cutting edge sound, video and lighting technology to make your event a one-of-a-kind, and most memorable event. We understand that great memories will last you for a lifetime, so we make sure everything is perfect, "every time".
With a strong presence in Washington DC, Maryland, New York, and Florida, our growing family currently has over 25 Disc Jockeys, MC's, and Dancers. We're proud to say that we entertain over one thousand events each year.
Please give us a call, send us an email, or fill out our booking form. We look forward to helping you throw your best party or event yet!
Everything Entertainment: everything you need to make your party a success!
- Yours truly, Everything Entertainment.
Our Guarantee
Everything Entertainment guarantees a lasting memory that you and your guests will cherish for a lifetime.
Our talented entertainers bring, love, passion, fun, and excitement to every engagement, and will always strive to deliver a professional and high-quality experience.